Categories:
news
,
Other News
|
Comments Off

on MIGUEL COTTO RECEIVED THE WBC GREEN BELT IN PUERTO RICO
June 25th 2014.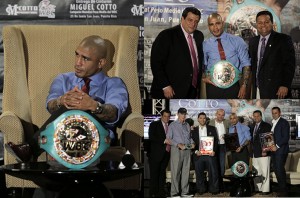 Miguel Angel Cotto the only fighter from Puerto Rico to ever conquer boxing championship in four different weight classes, received today the WBC green and gold belt in Puerto Rico.
WBC President Mauricio Sulaiman, the son of Jose Sulaiman, presented the green belt in a memorable ceremony at the Hotel San Juan in Puerto Rico. Honorable William Miranda Torres, Mayor of the City of Caguas, was present along with the Chairman of the Puerto Rico Boxing Commission, Jose Toto Peñagaricano and several boxing commissioners, including Dommys Delgado.
Puerto Rico is one of the greatest countries in boxing and great champions from the past such as Carlos Ortiz, Alfredo Escalera, Wilfredo Gomez and Tito Trinidad today can honor such accomplishments by Miguel Cotto.
Cotto Promotions formed by Hector Soto, Brian Perez and Gaby Peñagaricano received special award of honor and Pepe Gomez was present to confirm the support that Cancun has always given to the great champion Cotto.
Miguel dedicated his victory to his mother Juana Vazquez and especially to his late father Miguel Cotto (RIP).
Related Articles: